NEW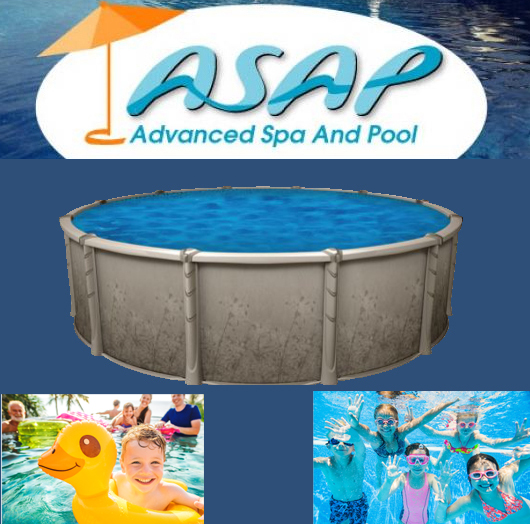 Tamara Fiesta 24'x52" Round Deluxe Pool Package
Advanced Spa And Pool
162 Lowell Rd (Rt.3A)
Hudson, NH
Retail: $13,700.00
Our Price: $5,900.00
This $13,700.00 NH DollarSaver certificate is good for the Tamara Fiesta 24'x52" Round Deluxe Pool Package, and normal installation package from ASAP, Hudson, NH. See details below.
A. 24' Round Pool with 6" Curved injection molded resin top ledges with injection molded uprights reinforced with embossed pattern. Heavy corrugated wall with superior coatings. Limited Lifetime warranty.
B. Deluxe Accessory Package Includes: Sand Filter, Over the wall Ladder, In Wall Skimmer and Return, Media for Filter, Liner, Maintenance kit and Auto Vac, Brush, Net, Test Strips, and Start Up BioGuard chemicals.
C. Normal Installation within 25 Miles * Includes: Normal excavation (requires access for a 6' wide bobcat to the site) Grade over 12" out of level subject to extra charge. Sand for Base (Requires access to the site for small dump truck) Base for filter Patio Blocks for every vertical Normal assembly of the pool, liner and filter. Pool School ***DOES NOT INCLUDE Permit Landscaping—Pool area should have crushed stone placed around and grass touch up. Water Electrical Work. (Must be done by a licensed Electrician)
Please Note: (The site to the pool from the street will have a bobcat and small dump truck driving across. We are as careful as possible but any marks or damage is the consumers responsibility.
Buyer responsible for sales tax, if applicable.
Advanced Spa And Pool
Hudson, NH
162 Lowell Rd (Rt.3A) Hudson, NH 03051 -
Show Map
Advanced Spa And Pool Corp., incorporated in 1997, is a leading pool and spa retailer for Southern New Hampshire and the Merrimack Valley. Servicing the pool and spa industry year-round, ASAP combines decades of experience and commitment to customer satisfaction.